50onRed
Cira Centre · 2929 Arch Street · Suite 1101 · Philadelphia, PA 19104
50onRed creates innovative technology that generates big profits for advertisers and publishers. Our Traffic Platform enables advertisers to execute and optimize digital ad campaigns around the world at massive scale. For publishers, we offer a suite of monetization solutions to maximize advertising revenue from their digital content.
In an always-evolving industry, we make our mark on the cutting edge. Building, breaking, and bettering technology is our secret to staying at the forefront of innovation to lead the market.
Got 99 problems but code ain't one.
50onRed is powered by a team of outstanding developers who bring their knowledge together to break tech boundaries and build smart products. To get things done, we rely on industry leading tools and technology so hot our engineers wear oven mitts while they code.
Two Awesome Offices
Philadelphia is a natural fit for our headquarters. Smack in the center of an unstoppable tech hub, our building doubles as a massive, record-breaking video game display (no joke). And with 30th St. Station as our next door neighbor, our office is accessible from anywhere.
Our open space was designed for to maximize collaboration and problem solving, and our kitchen is always stocked with snacks (including health options!), Red Bull, and a massive beer selection. We have weekly catered lunches from various local restaurants, and there's something for everyone. Parties and outings are big around here too, because there's always something to celebrate.
You'll also find us in New York's bustling Flat Iron District, a hotbed for creativity and innovation that makes for a perfect second home.
We ♥ Our Employees.
In addition to providing premium medical, dental, and vision benefits, we match employees' 401k contributions. Top-of-market salaries, incentives, and relocation packages attract the brightest minds from around the world. To sweeten the pot, we cover music subscriptions, gym memberships, and provide pre-tax transit passes.
The biggest perk of working at 50 is the opportunity to make an impact while creating lasting friendships in the process. We're a lively, growing team with a shared passion for creating awesome technology--and we have a blast doing it.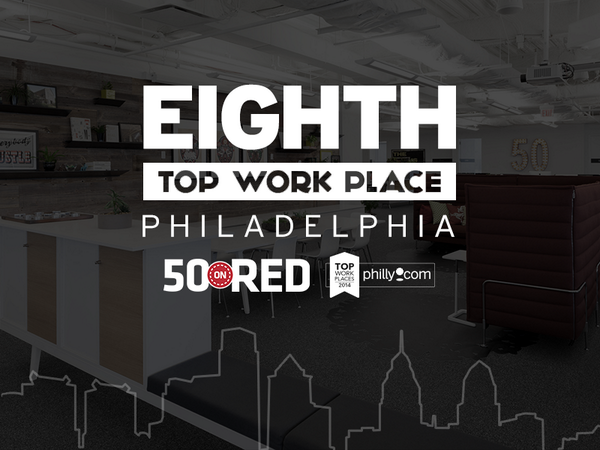 Technologies
PHP
,
Javascript
,
MongoDB
,
Java
,
python
,
mysql
,
redis
,
postgresql
,
ec2
,
s3
,
Flask
,
github
,
Jinja2
,
SQLAlchemy
,
Dribbble
,
ELB
,
SQS
,
Cloudfront
Company Type
Product
Company Region
Center City
Number Of Employees
51-200
The Team
Writer, editor, social media enthusiast, and tech junkie.